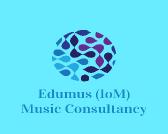 Don't forget to register for your lessons!
IMPORTANT - If you are unwell for any reason at the moment, please cancel your lesson with me. Hand sanitizer and tissues are available in all my teaching areas. It is better to be safe however!
Lastest news - there are no face to face lessons until further notice. Please keep practising as I would love to see you all as soon as this virus has passed and the church is open again.
Hello there
Education and Music in perfect harmony
Edumus (IoM) offers music consultancy and teaching for many different genres of music. Currently lessons are offered in the following disciplines:-
Piano (contemporary, jazz and classical)
Organ (recital and service music)
Voice (contemporary and classical)
Other instrumental lessons can be arranged.
Lessons are also offered to prepare for examinations. Composition and theory lessons are available. Lessons online can be arranged
As well as teaching, consultancy on wedding music, film composition, recording work and general musicianship is offered.